Manga
Ma uitam pe Mangaupdates in speranta ca n-o sa gasesc mare lucru azi, dar m-am inselat.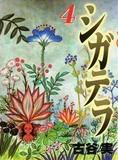 Pluto capitolele 51-52 – Pare sa se sfarseasca, sau cine stie… In 52 il vedem pe Pluto
Zetman capitolele 86-87
Ciguatera capitolele 35-38 – seinen foarte bun de la Furuya Minoru, in sfarsit capitole noi
Goodnight Punpun capitolele 10-12 – manga mai ciudatel de la Asano Inio(Nijigahara Holograph, Solanin, What A Wonderful World), desi mai toate manga-uriel lui sunt ciudate
Tokage capitolul 2 – Un manga cu potential mare, o sa-l urmaresc in continuare.
Unele din ele chiar n-au mai aparut de ceva vreme, pacat ca lumea-si pierde timpul cu shounen-uri si shoujo-uri de cacat cand ar trebui sa dea mai multa atentie seinen-urilor.
Ce mai merita citit:
Negative Happy Chainsaw Edge – noul manga al lui Takimoto Tatsuhiko, autorul manga-ului Welcome to the N.H.K.. Am citit primele 2 capitole, potential are, plot interesant, astept sa vad cum se dezvolta.
Saru Lock – un proiect mai ecchi inceput de cei de la Illuminati. Comedie bunicica, din pacate doar un capitol scos, din cele 15 volume ongoing, ramane de vazut daca e ceva de el.
Si Endless Eden a fost scanlat. Un ecchi(si altele) de la artista Retsu Tateo, pe care o stim (sau n-o stim) de la manga-ul Full Metal Panic!.

As incerca Doubt, mai vedem…